The Zoomable Drawings
Click on any of the thumbnail graphics to the right to go to the detailed drawing, which can then be zoomed and panned.
Within this section of the website you can have a close look at the drawings I have done to date. Others are in preparation. I have tried my hardest to make each one accurate and authentic, though there are several major problems: most photographs of the vehicles in service are now quite old and nowhere near detailed enough; most are three-quarter front views and of very little help for the perpendicular, orthogonal elevations I have produced; one almost never sees pictures of all four sides of the same vehicle of the same date and almost none are dated anyway; most pictures are black & white; adverts are hard to date even where colour images are available; preserved vehicles are often unreliable as a source of detail for understandable reasons.
A few facts on some drawings have come from http://www.countrybus.org/ which I have found to be quite a reliable source. I would like to acknowledge Laurie Akehurst for his help with a few of the first drawings I attempted and also George Jasieniecki regarding some of the detail of vehicles in service between the wars. Thanks are due to John Liffen in getting some of my text panels to read better and to Steve Smith for his input into some intricate details across many of the drawings. Thanks are due particularly to Ian Dyckhoff for his extensive knowledge, patience, advice and help with some arcane detail, especially for all the STL, RT, RF and 832J series, as well as providing factual information on registration plates, ticket boxes, lights and liveries.
How the Drawings Are Done
To help get everything in the appropriate relative proportional positions these orthogonal drawings are based on contemporary general arrangement drawings where available. These design drawings are not pin-point accurate, but then that was not their purpose. I use them as a guide.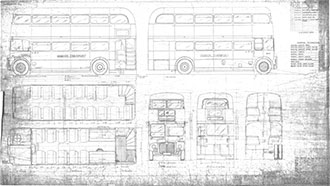 A general arrangement drawing. Enlarge >
Where a general arrangement drawing is not available and I have kindly been given considerable access to the vehicles by their present owners, I photograph them extensively. The great majority are taken square on at as many heights and widths as practical for detail, and at various angles for context. Photographs are also taken of each elevation from about 30 feet away (about 10 metres) to minimise parallax distortion. I then fade a selection of general photographs, print them out and return to the vehicle. I take extensive measurements and write them on the faded photographs. Usually more than one visit is necessary.
The Tower Wagon needed five visits and about 300 photographs to go with the measurements. This particular one took about 250 hours to draw; others based on measurements thankfully took rather less. Those based on general arrangement drawings take about 70 hours each on average.
I also make use of as many contemporary photographs as I can find but these contribute little as they are usual at an angle, and I only use restored vehicles as a source very cautiously.
The London Transport Museum has kindly provided many press photographs, customarily taken before vehicles enter service, though caution needs to be exerted with these as they were often displayed with inappropriate blinds, garage codes and running numbers.
All the detail I can glean is then put together, as best as I can, mostly by eye, and with as much fine detail added as my conscience will allow. The objective is to create a colour illustration hopefully to capture the look and context of the vehicles when they were in service.
Adverts have been re-created from colour photographs, though dating them can be very difficult and I cannot vouch for every one of them being appropriate for every drawing – though I have tried my best. For only a very few older vehicles I have created adverts from contemporary black & white photographs and guessed the colours. Of course, most restored vehicles of this age (generally pre 1950s) have had the colours of their adverts guessed anyway, and so slavishly copying them means I am merely replicating someone else's guesswork. That said, I have attempted to re-create these colours from colour photographs of similar adverts and signs published in books of their time.
To be clear, I am not trying to create drawings so accurate that a vehicle could be built using them. There is no point. Effectively, I am trying to create the context of a general arrangement drawing, with much more detail, and in colour, and as in service at a particular point in their evolving lives.
The Reason for Creating These Drawings
As you may have gathered from the animation at the top of this page, I have an interest in some vehicle types operated in the past by London Transport. There was great excitement at my school when it got round that Finchley trolleybus depot had got prototype RM1 in its forecourt. This would have been sometime in 1959 and I asked "what's RM1?"
I tagged along there after school with a few friends to see what the fuss was about and my imagination was well and truly caught. Little did I know that that moment of serendipity would change the course of my life.
The imminent trolleybus conversion programme in my area fired my imagination and I found myself travelling all over London learning about bus routes, how they operated and where they went. I also got to learn London quite well as a happy by-product. This quickly led to learning how to use bus maps and eventually created my career in public transport in many forms.
One of my teachers noted that I kept sketching buses, in some detail, in the back of my exercise books. Had I devoted as much attention to the lessons I might have done rather better in my exams.
In 2011 I was given some large scale 'general arrangement' drawings of a few Routemaster variants to scan for a good friend. These were very big, about 50 years old now and not especially clear. (Note: these were dyelines and not blue prints as most people mistakenly call them.) They had to be scanned in twelve A3 pieces and stitched together in Photoshop. Once done I thought to myself 'these would look nice in colour'. As referred to in the tile pattern section of this website, the thought 'wouldn't it be a good idea if...' got a bit out of hand.
Constructive criticism and errors noted are welcome, please e-mail me.