Following the gradual phasing in of my new blind displays I was invited to give a short to talk at TfL's Surface Transport offices in May 2016. This led to an invite to give an expanded version to The Sign Design Society on 10th November 2016. This was live streamed at the time and later made available only to their members. With their kind permission you can now watch and listen here.
The talk is illustrated with 45 slides. I explain the importance of legibility of these displays on the front and side of the buses and why I designed four new interpretations of the wonderful Johnston letterforms specifically for the purpose. I explain the huge limitations the space available on the bus presents and how the well-meaning Disability & Discrimination Act (DDA) fails to understand the problem, as do those who are unthinkingly deferential to it. About 6,500,000 bus journeys are made in London every day and every one of them starts by the passenger trying to read the blinds.
The video will open on Youtube, where you can set it to play at full screen for best effect.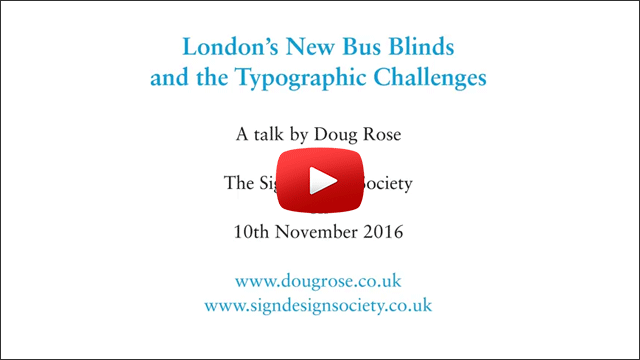 If you are interested to see how bus blinds were produced before computer technology was used, have a look at: https://www.youtube.com/watch?v=Q1rRva0tugc
The following link shows how the blinds are printed nowadays, from the artworks I provide to McKenna Brothers: https://www.youtube.com/watch?v=xgCay4OBjvA (2016)
* * *