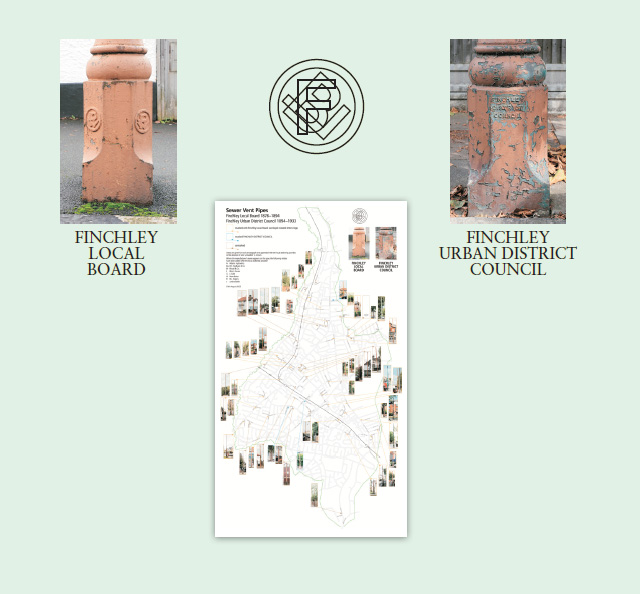 Click on the map which can be zoomed and panned. The map includes photographs of all pipes, the providing local authority and manufacturer.
A Finchley Local Board was formed in 1878 providing various sanitary and other services, and was replaced by Finchley Urban District Council in 1894. With some subsequent boundary changes, Finchley Borough Council superseded it by Charter of Incorporation in 1933. (For a fuller exposition, see Outer London Areas History)
The local sewerage system for the area is reported to have suffered from a build up of gases and vertical hollow vent pipes were erected to a height of about thirty feet at several locations. Today these are known as 'stink pipes', though I prefer to refer to them by their earlier more appropriate and slightly less unpleasant name of sewer vent pipes. They are often mistaken for lampposts until one looks up and sees no lamp, and indeed a few contemporary photographs show lampposts with a similar design of column.
In some areas of London these pipes are abundant though in others they are completely absent. Now part of the London Borough of Barnet, many examples of these can still be seen in Finchley. A lot of them have been cut down, often to only about half their former height. This is probably because the iron from which they were made had deteriorated to the point where they were unsafe or beyond practical maintenance. The pipe in Briarfield Avenue exhibits severe corrosion (see pipe number 25 on the accompanying map).
The pipes in Finchley were provided by a number of different manufacturers and therefore to a few different, though similar, designs. The photograph of each one is appended with the date taken and the name of the pipe's maker.
The map shows all sewer vent pipes I know of and I have numbered them clockwise around the area, purely for my own reference purposes. I have allocated the number '4' to a point towards the north-east of Fenstanton Avenue. An informative article written by Dudley Miles, reports the existence of one there; this was published in London's Industrial Archaeology 20 (2022). I have not seen this pipe myself as it is on private property.
The majority of the pipes were provided by the Finchley Local Board and most bear its logo of the overlayed rotated letters FLB. A few were erected a little later and show "Finchley District Council". Many do not bear any inscription at all, though most have the manufacturers name displayed.
* * *